Our Mission
Communication for all
Welcome to Communication Community! We are so glad you are here. As licensed speech-language pathologists, we wanted to create an inclusive site containing resources that caregivers, educators, and related service providers alike can utilize to strengthen their communicative connections and developmental understanding towards the individuals they care for every day.
The goal of Communication Community is to demonstrate that communication is for all - no matter one's age, abilities, or speech and language skills. By sharing our professional knowledge through related articles and resources, our goal is to build a community. A community that provides tools help to increase parent-child interactions, that also strengthens the interpersonal and linguistic connection between generations. A community that encourages and teaches natural opportunities for language growth and expansion. A community that generates more conversation surrounding alternative forms of communication and those working with/caregiving for individuals with special needs.‌‌
We hope that Communication Community provides valuable information for you. We always want to hear from you. Reach out to Becca and Kristi at hello@communicationcommunity.com!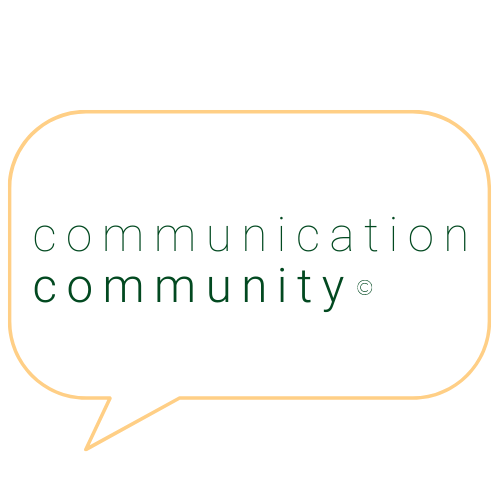 About the Authors
Kristi and Becca met in their first semester of grad school in Massachusetts. They became fast friends and supported each other through the rigor and stress that grad school brought (though they would be remiss not to mention their AMAZING cohort and friends from their program as well).

Tip for those who are currently in their grad program: these were some of our hardest years, but surround yourself with people who support you (there is room for everyone, no need to treat it like competition) and make sure you balance with some fun!

Anyways, after grad school, Kristi stayed on the east coast while Becca moved to Colorado. Though they were no longer living in the same state, their friendship continued and they loved grad school friend reunions for weddings or "just because we need to go to Vegas…"

A few years later, in the spring of 2019, Kristi approached Becca with the idea of starting a blog related to speech-language pathology. Their jobs provided them with a lot of hands-on experience working with individuals who used AAC and they recognized the difficulty of finding accessible information about AAC and other speech, language, and communication information for other SLPs, educators, and caregivers.

Becca was immediately on board, and over the next few months, they brainstormed blog names, what a logo might look like, and what they might write about. September 2019 was the debut of their first-ever blog post and they haven't looked back.

While a lot has changed and evolved over the past three years (aka they have learned enough about SEO to know there's A LOT more to know about SEO; if you don't know what SEO is, don't worry, they didn't teach it in grad school so we didn't know beforehand either), their mission has stayed the same: provide accessible information (and resources) to SLPs, educators, and caregivers. They are still huge proponents of using AAC and believe that communication is for everyone.

Kristi and Becca love working on the blog and have more passion than ever for their work outside of Communication Community. They believe their work on the blog and work with individuals with communication needs are intricately connected and make them better clinicians and "creators." Recently, Kristi has been providing teletherapy services and working with a pediatric clinic and Becca spends her work hours providing teletherapy to students and at an outpatient facility for patients with neurological conditions.

They also believe in work-life balance and sometimes a good catch-up session is necessary before diving into blog talk, too!

In her free time, find Kristi hanging out with her one-year-old daughter and husband, and enjoying the Florida water life (boating, kayaking, and walking along the causeway/beach are all favs)!  

Find Becca soaking up the sun as she hikes a mountain, lays on the beach, or reads her new favorite novel (most likely a "beach read" no matter the season).
Have any questions or want to collaborate? Reach out at hello@communicationcommunity.com or Insta DM communicationcommunity!