Are You A Premium Community Member (or want to be)?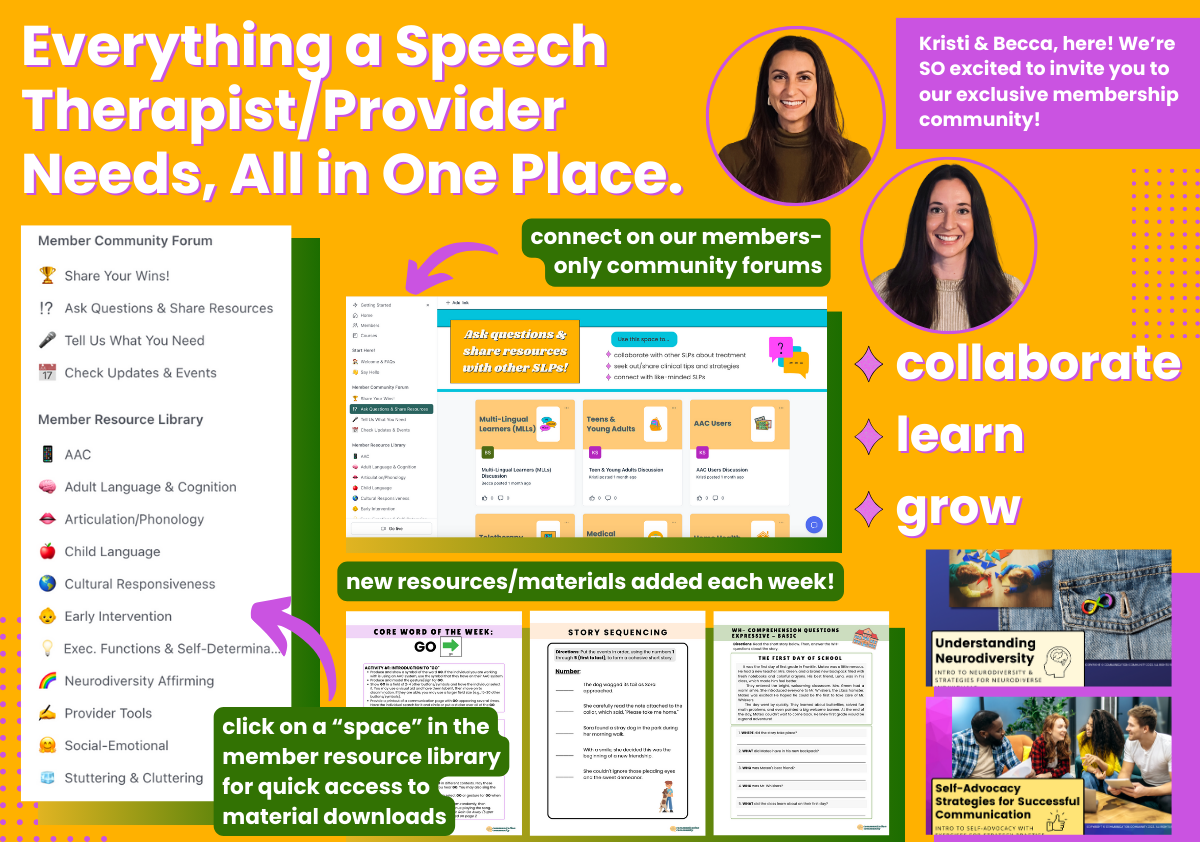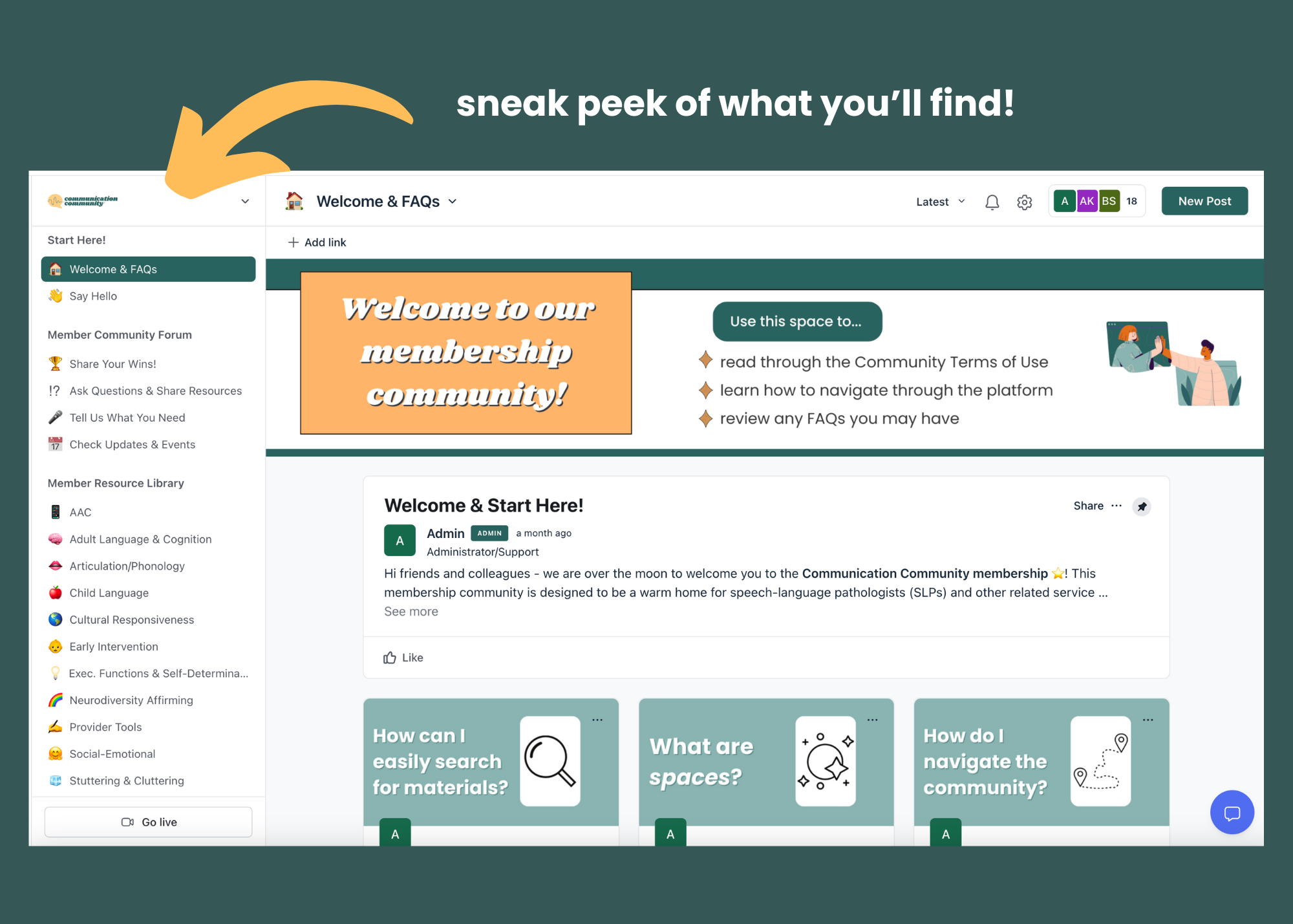 The Communication Community Premium Membership is a one-stop hub (tip: save this page to your toolbar) where you can not only grow professionally but also make your daily practice more effective, rewarding, and stress-reducing. We aimed to design a space that was unique to any other speech therapy membership out there. Here's what you'll get with your exclusive membership:
🔸Unlimited Access to Our Paid Materials (child & adult)
For real. From our goal banks to our WH- question packets, download as much as you need to make your sessions more impactful and stress-free. That's over hundreds of dollars in value and savings alone!
🔸Continually Growing Content Library
We're constantly adding new goal resources, therapy worksheets, parent handouts, and much more to our library. If you don't see it yet, request it via community message boards!
🔸Specially Designed Message Boards
Collaborate, ask and answer questions, share your wins, and even make requests for specific resources you need. Our community is your community and we want it to be a safe and collaborative space.
🔸Flexible Pricing to Suit Your Needs
Whether you're looking for a monthly commitment or want to dive in for the year, we've got you covered. Opt for our unlimited monthly membership at just $19/month or grab the annual membership for $175/year and enjoy the biggest savings!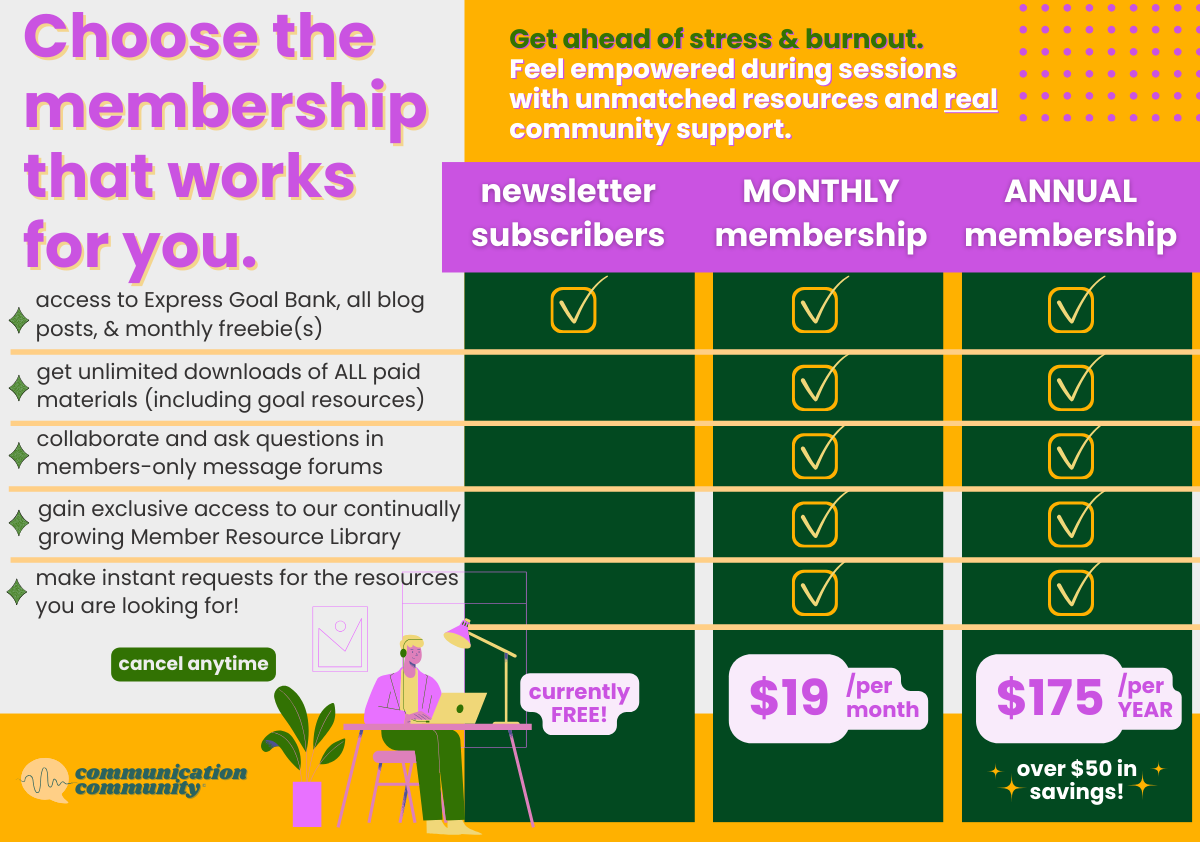 Get More Done, Faster: Streamline Your Practice with Our Members-Only Resource Library and Clinical Support
So, are you a speech therapist who...
...is tired of limited resources?
Upgrade to our Premium Membership for unlimited download access to our newly created AND paid materials.
...wants a supportive community?
Our Premium Membership offers specially designed message boards for collaboration and support. Don't be a lonely office/telehealth therapist again!
...is looking for a one-stop solution?
Our continually growing content library and community message boards make us the ultimate resource for speech therapists/providers. Don't see a material you want? Request it!
...wants flexible pricing options?
Choose between our monthly and annual pricing plans to find what best suits your needs. Save BIG by paying 1x per year with our annual membership option.
If you answered "YES" to any of the above - come be a part of the future of speech therapy with the Communication Community Premium Membership!
---
Have additional questions? Reach out to hello@communicationcommunity.com for support.
We've taken a while to get here, but we couldn't have done it without you! Thanks to all of our readers and newsletter subscribers for your loyalty thus far! You are great at what you do and we are grateful to share a community together.
-Becca & Kristi 🤗
---
Access over 300 pages of expanding resources PLUS collaborative spaces to ask questions and share your clinical (and non-clinical) wins 🏆.
With the option of choosing from either an affordable monthly ($19) or annual membership cost ($175) to access ALL content, downloads, and message boards. Cancel anytime.