Organizational Systems
No matter what setting you work in as an SLP, there are a lot of things to keep track of every day. This is also true for individuals who are not SLPs and take care of their family and/or work in other jobs. Staying organized is important to ensure that you're getting everything done that needs to be done and you're not missing any important deadlines or meetings. We think having an effective organization system can make you a better professional and/or caregiver, and there's no way we would get everything done on time without it!
There are a number of benefits of being organized that can actually improve your health. Some of them are as expected, like being less stressed, but some of them are more unexpected, like sleeping better and having more time to yourself. Few people can argue that being less stressed, sleeping better, and having more personal time are bad things.
Keeping ourselves organized allows us to plan better for intervention sessions, evaluations, and meetings. We are able to stay prepared and less stressed when unexpected things come up as well.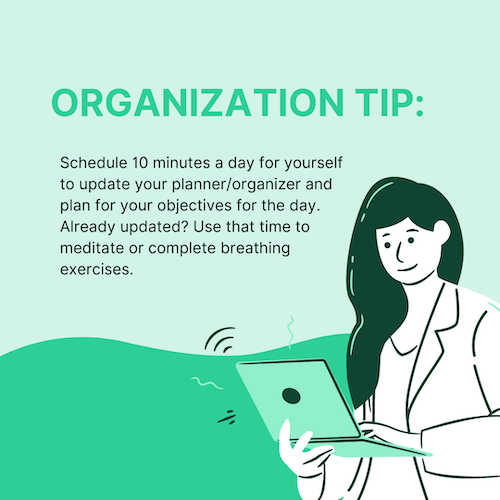 There is no one organizational system that works for everyone, so what works for us may not work for you, and that is okay. Rather, we encourage you to find an organizational system that is ideal for you and stick with it. The following are some options for keeping track of tasks and events.
The pencil and paper method
Using a paper planner, notepads, calendars, and binders. You can keep track of all events and deadlines in your planner that has a calendar view, a week view, and/or a day-by-day view. Manage your to-do lists on notepads and your documents in binders.
The digital method
Everything is paperless. You have an online calendar that is synced to your email address or is on your phone. You can easily access your calendar and update it on the go. You keep digital folders and digital to-do lists. Important: pack your charger whenever you leave so you don't have to worry about a dying phone or laptop!
The hybrid method
A combination of pencil and paper and digital organization. I would be willing to bet that most people use a hybrid method! I like to have a digital calendar and set timed alerts on my phone or computer for tasks I need to do, but I swear by my written down to-do list. I usually look at my digital calendar on a weekly or daily basis and write down important events and tasks on my notepad or paper planner. Nothing feels as satisfying as crossing something off by hand (or is that just me?).
---
Some helpful organizational products include:
The SLP Pediatric Reference Notebook - notebook with helpful language charts and developmental milestones
Speech-Language Pathologist Log Book Session Tracker - notebook with premade time and data sheets that can be individualized for each client
To-Do List Greenery Notebook - all-on-one planner and organizer with room for notes, appointments, do-do lists, etc.
Clipboard with Storage - I can't rave about this enough… I have used this since I was in grad school and working in all settings; this is basic, but has been one of my best tools
Regardless of what method works best for you, we encourage you to take a few minutes at the start of each day or week and get yourself organized!