The holiday season is coming up quickly and we know that finding the right gifts to buy can feel like a daunting task. It is fun to give gifts that are beloved by all recipients but getting to that point often requires a lot of effort. In order to make that easier, we rounded up some of our favorite gifts. They are fun - and as a bonus - promote speech, language, and communication skills!
---
Why Books, Games, and Toys for Speech and Language?
Playing, books, games, toys, and activities help promote language development, provide opportunities to practice speech sounds, and encourage communication between others. Most importantly though, they are also fun! A fun environment is a great place to develop speech and language skills. The gifts we list below provide a ton of natural opportunities to interact with others and learn new things.
Why is Play Important for Language?
Play skills are significant in a child's speech and language development. Play provides some of the earliest opportunities for a child to develop social skills and to form symbolic relationships (e.g. pretend play). Turn-taking during play also teaches early turn-taking skills that are relevant to conversational exchanges. These are some of the many areas that serve for later-developing, higher-level, language functions.
Why are Books Important for Language?
Joint book reading can be an enjoyable experience between a child and a loved one. Reading with or to a child promotes interactive behaviors that foster a strong sense of communication and social closeness. Early interactive behaviors include following directions, imitating, and establishing joint attention. Even if a child is not yet a "reader," exposure to books and other print also encourages early literacy awareness. As a child begins to develop literacy skills, books can be used to practice reading and comprehension but also be exposed to more advanced narratives.
Why are Games Important for Language?
Games encourage communication between others and require skills such as turn-taking, requesting, and commenting. They can be used to target a variety of goals within therapy as well. For example, a child can work on saying a target articulation sound five times before having a turn. They can also work on producing longer utterances by requesting materials, talking about their turn, and discussing what is going on in the game.
20+ Favorite Speech Therapy Gifts
Below are some of our favorite toys, books, and games for individuals for pre-readers to early readers. Some of them can be used across a large age span, while others may not be as appropriate for all ages. We recommend reading all instructions and information carefully before buying a gift or giving it to someone in order to determine if it is safe and appropriate for them.
Click any of the pictures to link to the gifts!
Toys
---
Books
Games
Card Games
Board Games
Other Games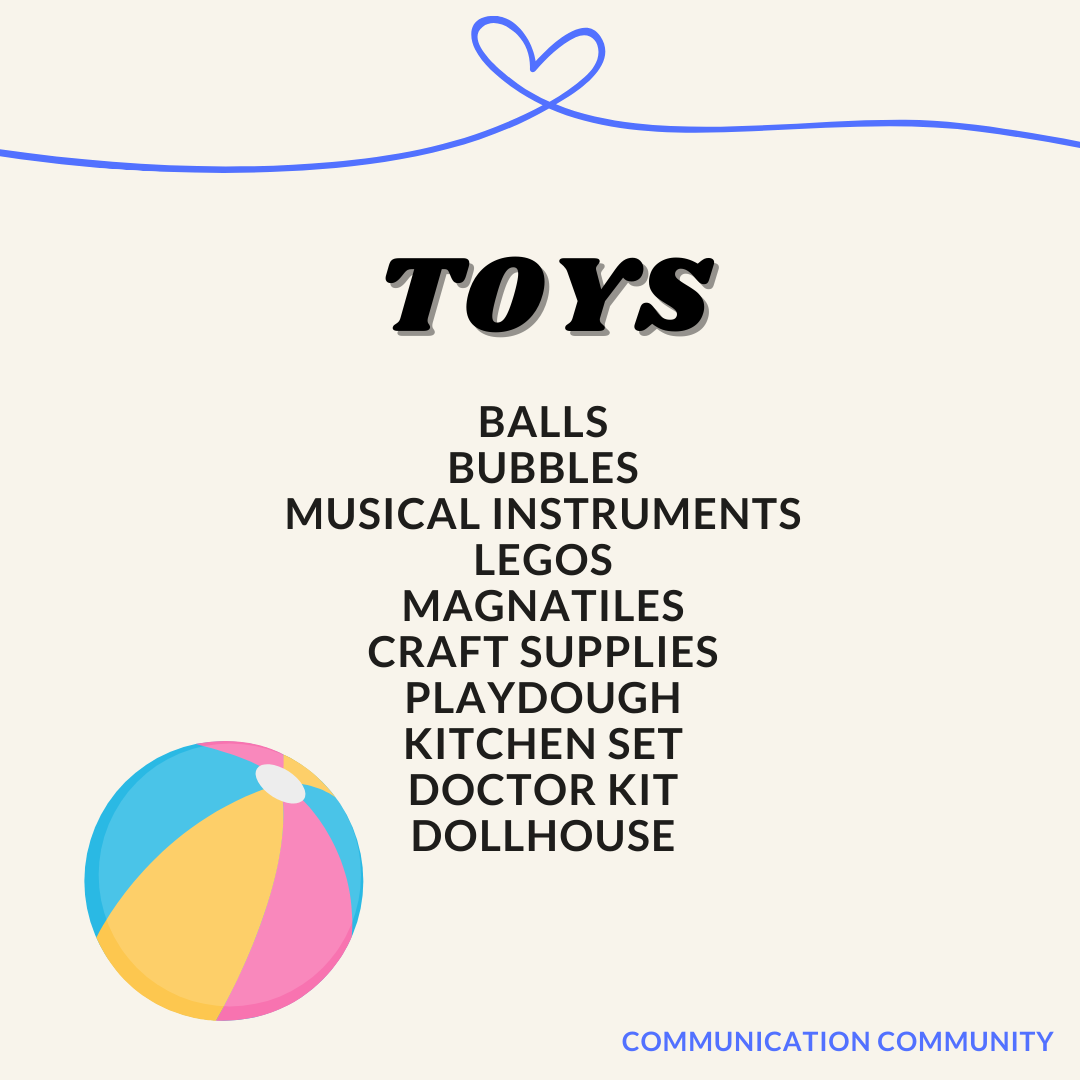 This post contains some affiliate links and we may be (slightly) compensated if you use them, but all opinions are our own. We appreciate the support!