AAC Awareness Month: About
AAC Awareness Month is dedicated to raising awareness about Augmentative and Alternative Communication (AAC) systems. It is internationally recognized every October.
What is AAC?
In summary, AAC is a broad term used to describe various communication methods used by people who have difficulty speaking. This can include (but is not limited to):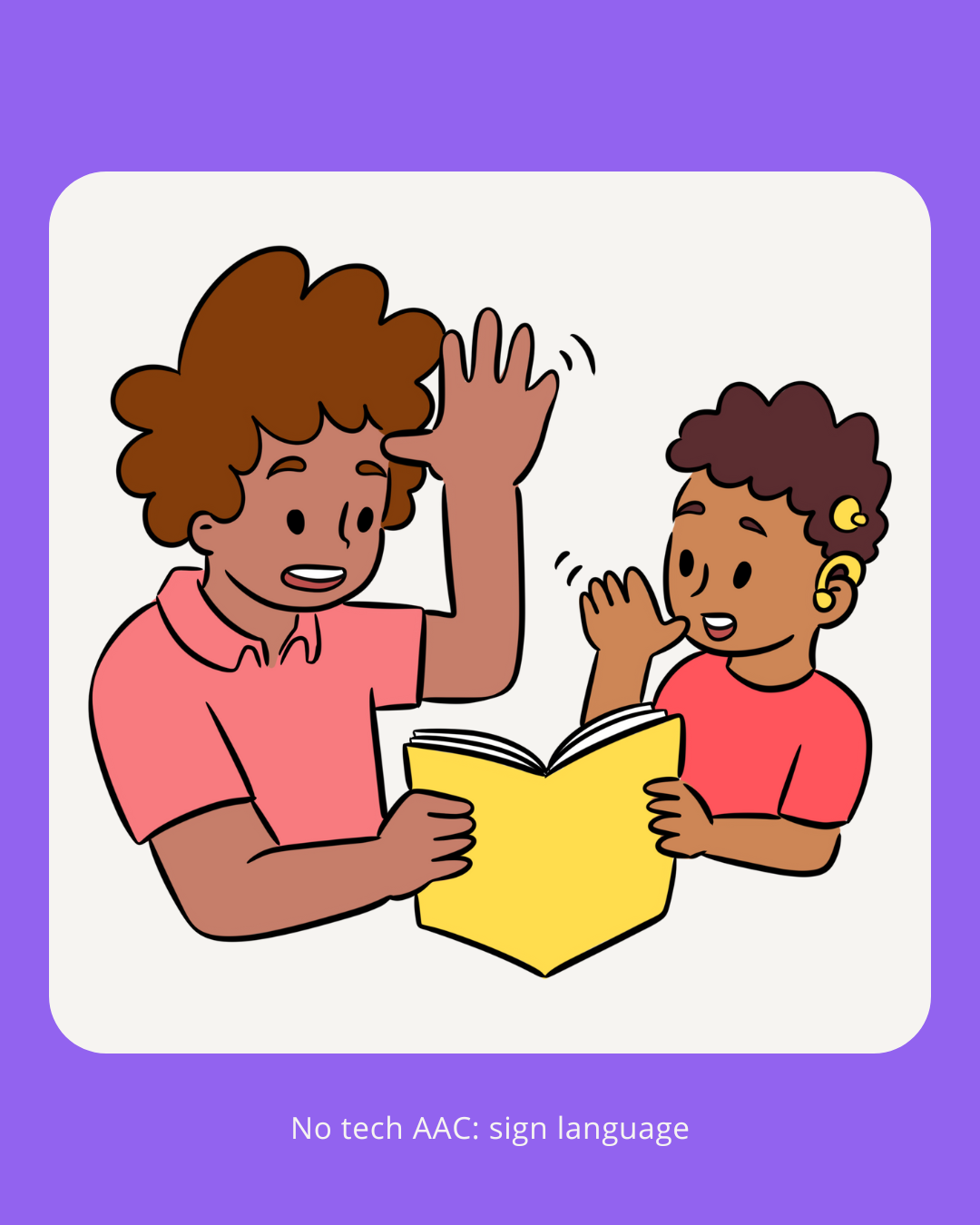 🟣 Sign language: Using hand signals to communicate.
🟣 Communication boards: Pointing to pictures or symbols to convey messages.
🟣 Speech-generating devices (SGDs): Using technology (e.g., tablet) to create spoken words.
Each of the communication methods mentioned above are powerful tools to enhance one's communication (augment), as well as serve as an alternative means of communication. AAC systems provide increased opportunity for individuals to express their thoughts, needs, wants, and ideas effectively.
What is AAC Awareness Month?
AAC Awareness Month happens every October. It's a time where people and organizations shine a light on AAC to:
Help more people understand what AAC is.
Celebrate people who use AAC to communicate.
Share the latest tools and technologies in AAC.
The ultimate goal is to make more people aware of AAC and to create supportive communities for AAC users.
How Did AAC Awareness Month Start?
AAC Awareness Month began in 2007, initiated by organizations like the USSAAC (United States Society for Augmentative and Alternative Communication) and ISAAC (International Society for Augmentative and Alternative Communication). They wanted to create a time each year to talk about AAC, share resources, and celebrate the AAC community. Since then, there have been tremendous strides in AAC awareness and technological advancements related to AAC.
How to Get Involved in AAC Awareness Month
Check out some of our tips for getting involved during AAC Awareness Month and where to learn more below:
Learn and Share
Read up on AAC and share what you learn with others. Under our AAC tab, we share a ton of free content and resources related to AAC.
Follow us on social media (Instagram - @communicationcommunity) and other informative accounts, such as @emilydiazslp, @aac.and.me, and @aacwithkate, that discuss AAC topics and share helpful resources.
Note: there are MANY more other helpful accounts out there, too!
Use hashtags like #AACAwarenessMonth or #AACSLP to find more AAC-related information and get more on your feed.
Join Events
Look for local or online events (workshops, webinars, etc.) that talk about AAC.
Find AAC-related events on the USSAAC calendar, here.
Recently, PrAACtical AAC released some free courses to explore. Check them out here!
Participate in fundraising events or campaigns.
ISAAC donation options can also be found, here.
Support AAC Users
Be patient and supportive when communicating with AAC users. Some of our articles related to AAC user support can be found below (or within our AAC tab):
  5 AAC Tips for Parents & Caregivers
Advocate:
Encourage schools and workplaces to be AAC-friendly.
Check out Smarty Symbols playground communication boards and share with your school admin!
Support policies that make spaces more accessible for AAC users.
Find more information about laws and policy related to AAC, here.
Involvement doesn't have to be limited to a single month! The following information can be useful and shared year round.
AAC Awareness Month is all about understanding, supporting, and celebrating different ways of communicating. By learning a bit more and sharing what we know, we can all help create a world that's more inclusive and supportive of AAC users!