As a speech-language pathologist (SLP), you are likely always on the hunt for new worksheets and printables for your clients with speech and language delays and/or disorders. If you don't need to print, I still like how they are super convenient to email home for extra practice or quickly pull up for my telepractice sessions! Tip: open the PDF and use the annotation feature in your video chat platform to fill them out.
Free worksheets and printables are even better for those with limited (or nonexistent) material budgets…we've got your back! To make your life easier, find a round-up of some of our favorite free speech therapy worksheets below.
Why Using Worksheets and Printables in Speech Therapy is Beneficial

They require little to no prep
They won't make a mess
They're easy to organize and store
They can make working on goals more fun and engaging
They can be used for progress monitoring (e.g. do an articulation BINGO activity each quarter and measure progress with it)
They can be used virtually or printed out
Free Speech Therapy Worksheets and Printables and How to Use Them

Within this blog post are worksheets to aid speech therapy practice in sessions and at home. These are suited for various ages and skill levels. They are either linked to our TPT store or via Google Drive link!
Free Articulation Worksheets and Printables
Use these to target specific speech sounds. These are great for getting a lot of reps in!
Articulation BINGO:
Free Language Worksheets and Printables
Use these to target specific grammar and vocabulary skills including wh- questions, plural nouns, parts of speech, and figurative language.
Plural Nouns (Regular & Irregular Nouns) Review

WH- Short Story Questions:
Mad Libs:
Free Seasonal Worksheets and Printables
Have fun incorporating holidays and themes into your speech and language activities. These activities are great for mixed groups and can be customized based on whatever goal you're targeting!

Back to School:
Mad Libs:
WH- Short Story Questions:
BINGO games:
Scavenger Hunts
Free AAC Core Word Resources - Printables
Find a mix of core and fringe word activities for your AAC users and groups.

Core Word of the Week Activities
Back to School Fringe Vocabulary BINGO

Free Speech Therapy BINGO games
BINGO games are great because they can vary in complexity and goals you can target. Some ideas for use: work on identifying or labeling the chosen word on the Bingo board, hone in on inferencing skills, explore sentence expansion, and so much more!
Articulation:
Seasonal:
Free Administrative Support Documents for Speech Therapists
Gather background information on clients and take data easily with these printables!

Case History/Intake Fillable Form
Articulation Data Collection Sheet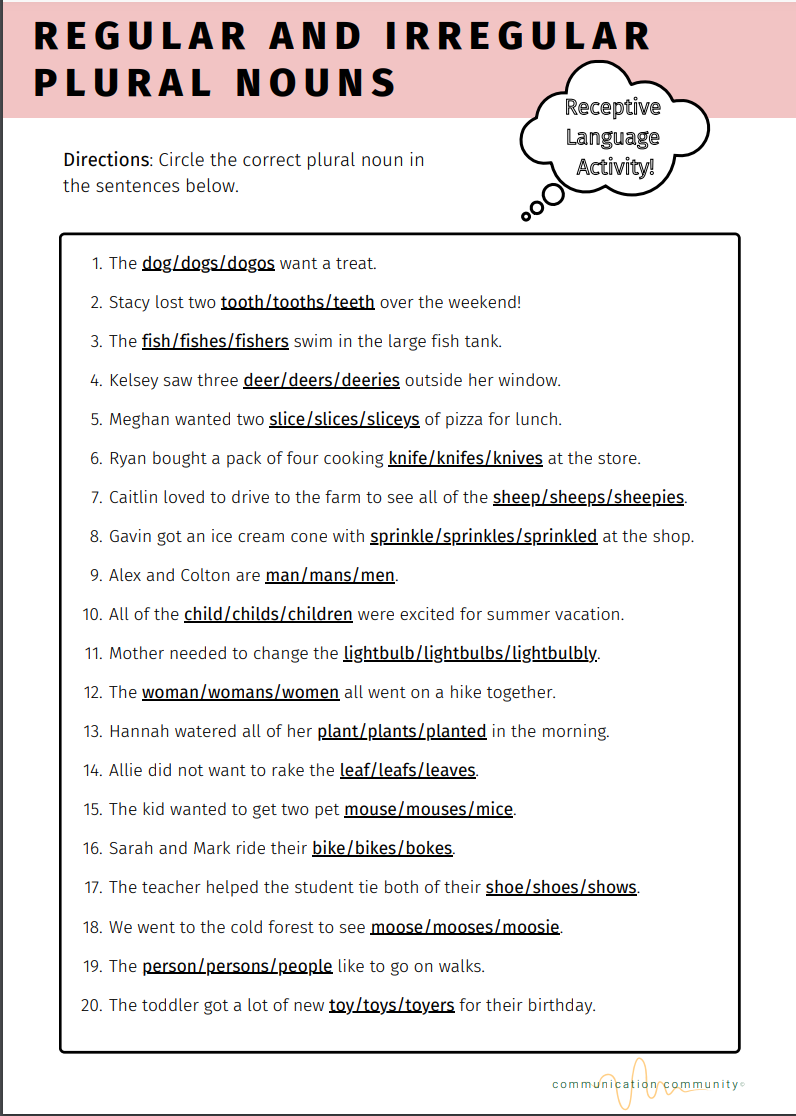 ---
Looking for more resources?

Find additional activities and resources in our TPT store! We have goal creators, domain-specific resources (e.g. stuttering, self-determination), and more resources.