Goals for Early Intervention (EI) and Preschool/Pre-K
In the past, we have released several goal banks, including our AAC MASTER GOAL BANK and our SCHOOL-AGED SPEECH THERAPY MASTER GOAL BANK (bundle also available).
We know that a good portion of our readers service EI/preschool populations, which is why we just released our EI and Preschool/Pre-K goal bank with resources! 60+ pages of comprehensive content!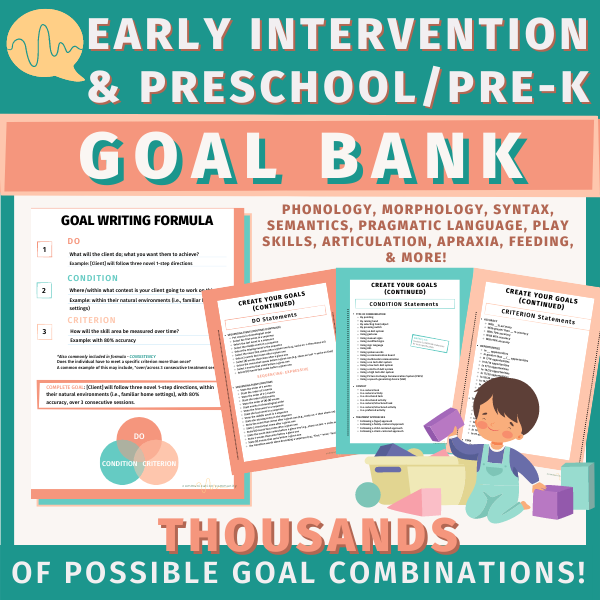 Scroll for what's included in the goal bank and ways to access this comprehensice resorouce: through our TpT store or via Gumroad link (below).
What Areas are Included?
What you get with Early Intervention and Preschool/PreK Speech Therapy Goal Bank and Resources:
Information about Early Intervention, speech and language milestones, a speech sound acquisition chart, and a play skills infographic.
Over THOUSANDS of possible goal combinations for all areas of speech therapy for this population
What else is included:
Receptive & expressive goals:
Articulation/Phonology/Apraxia
Phonological awareness
Morphology/syntax
Semantics
Sequencing
WH- questions
Emotions/feelings
Directions
Auditory stimulation
Pragmatic language goals:
Body orientation
Joint attention
Conversation skills
Following routines
Following rules
Play skills goals:
Exploratory play
Relational play
Functional play
Symbolic play
Games/toys
Pre-literacy skills:
Book/media specific
Narratives
Oral strengthening/feeding:
Stimulation
Strengthening/control
Chewing, drinking, and swallowing
Pacing
Sensory
Other
BONUS Fluency goals page
Links to additional (free) goal banks (articulation, AAC, cluttering, executive functions, expressive language, fluency, phonological awareness, play skills, pragmatic language, receptive language, self-determination, and voice) with helpful articles for goal writing!
Goal writing tips
---
Our goal for this resource is to make the lives of our community members EASIER and circulate content that is thourough and evidence-based.
We welcome feedback or questions to to hello@communicationcommunity.com!
Happy writing!
Cover image credit to NotionPic