What are communication boards used for?

Communication boards are used to support functional communication, like any Augmentative and Alternative Communication (AAC) system. They are considered a low tech version of AAC because it requires the user to use a tool outside of one's body. For our full post on them, check out our post on How to Make a Communication Board.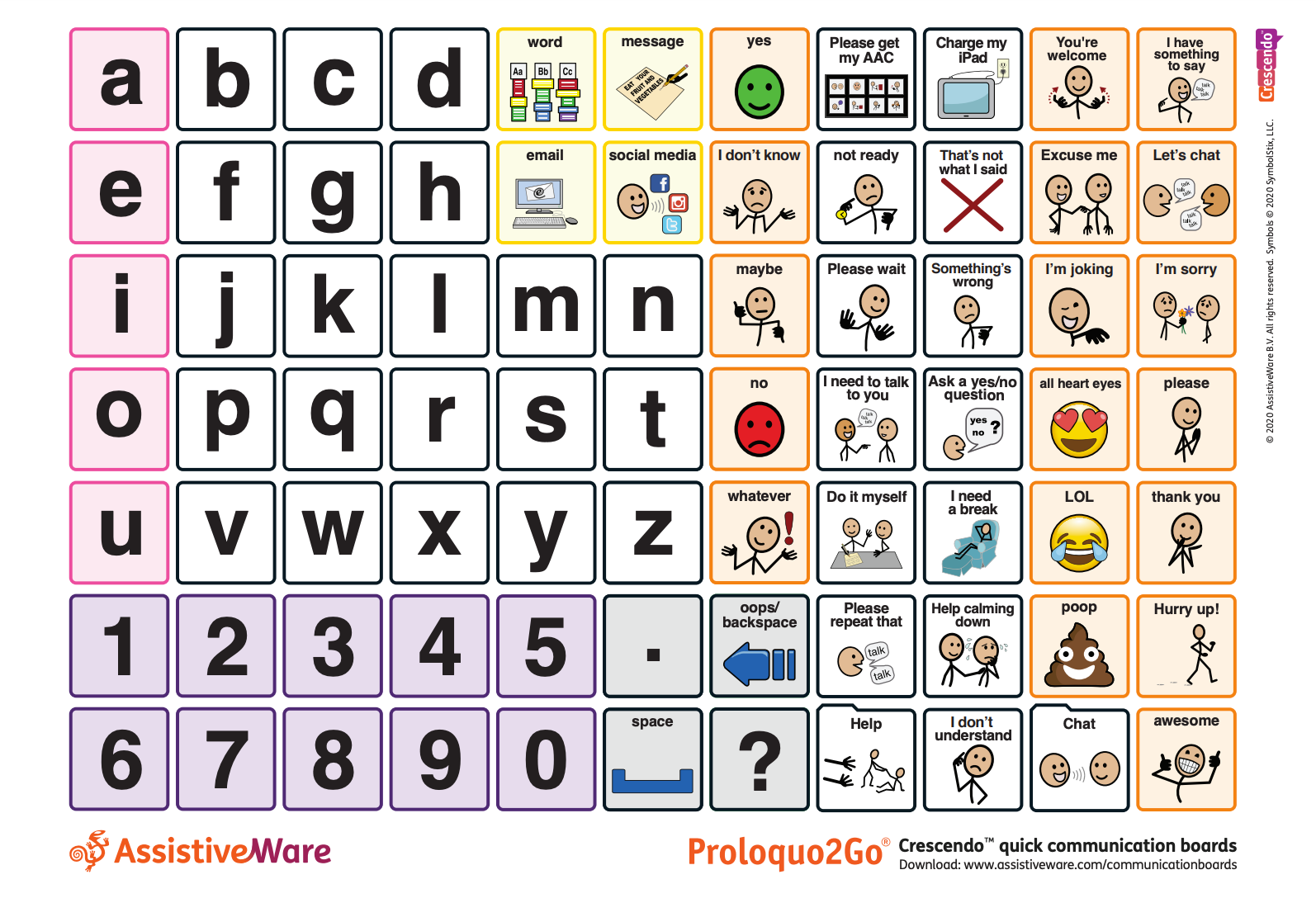 ---
In that post, we named a number of companies that could be used to create communication boards. These included websites and software options.

Since we published that post, a number of the companies we named have released new features and updated their technology in order to provide even better communication boards. We are excited to share them below!

New Communication Board Features
New templates for English languages (US, UK, Australia)
Improved loading speed in some features
Increased diverse symbols
Skin tone options for individual buttons
Pages can be saved as images or .png files that can be printed. This may be helpful if someone uses both high tech and low tech AAC!
Low tech communication board  download option in French on the Saltillo website
Addition of COVID-19 related symbols
Updates to support ESSER funds (related to the American Rescue Plan Act of 2021)
Supports for online learning
Supports for aiding interactions
Increased ability to customize "characters" (e.g. changing skin tone, adding glasses, adding ponytails, etc)
YouTube channel with new videos related to customizing symbols

Over 80,000 images to choose from
Syncs to Google accounts (good for schools/companies that primarily use Google Workspace)

New symbols and activity boards (can find on Recently Added)
Ability to share boards with others via email
N2Y offers live weekly presentations to discuss updates, strategies, and tips
Addition of new languages: Macedonian, Albanian, and Turkmen
Option to download languages from the Google Play Store
Live-mode that allows users to type out a message in the output bar and have Cboard read it out loud
The option to copy-paste tiles in order to facilitate creating new boards with already created tiles
A tour of features on Cboard for new users (or users who want a refresher on what features are available)
Order a Playground Communication Board directly from them!
Regular webinars (catch previous ones on their YouTube channel)
Diverse symbols and languages
Download individual images
Search images by phonetic sounds
Download jpg or png formats
Educationally-relevant categories
Use tags
---
Additionally, many of these companies have published YouTube videos that are great resources for learning about their products. Maximize your use of them by checking out some of their publications.
---
Communication Board Considerations: Updates

When creating a communication board, there are a number of features you must consider.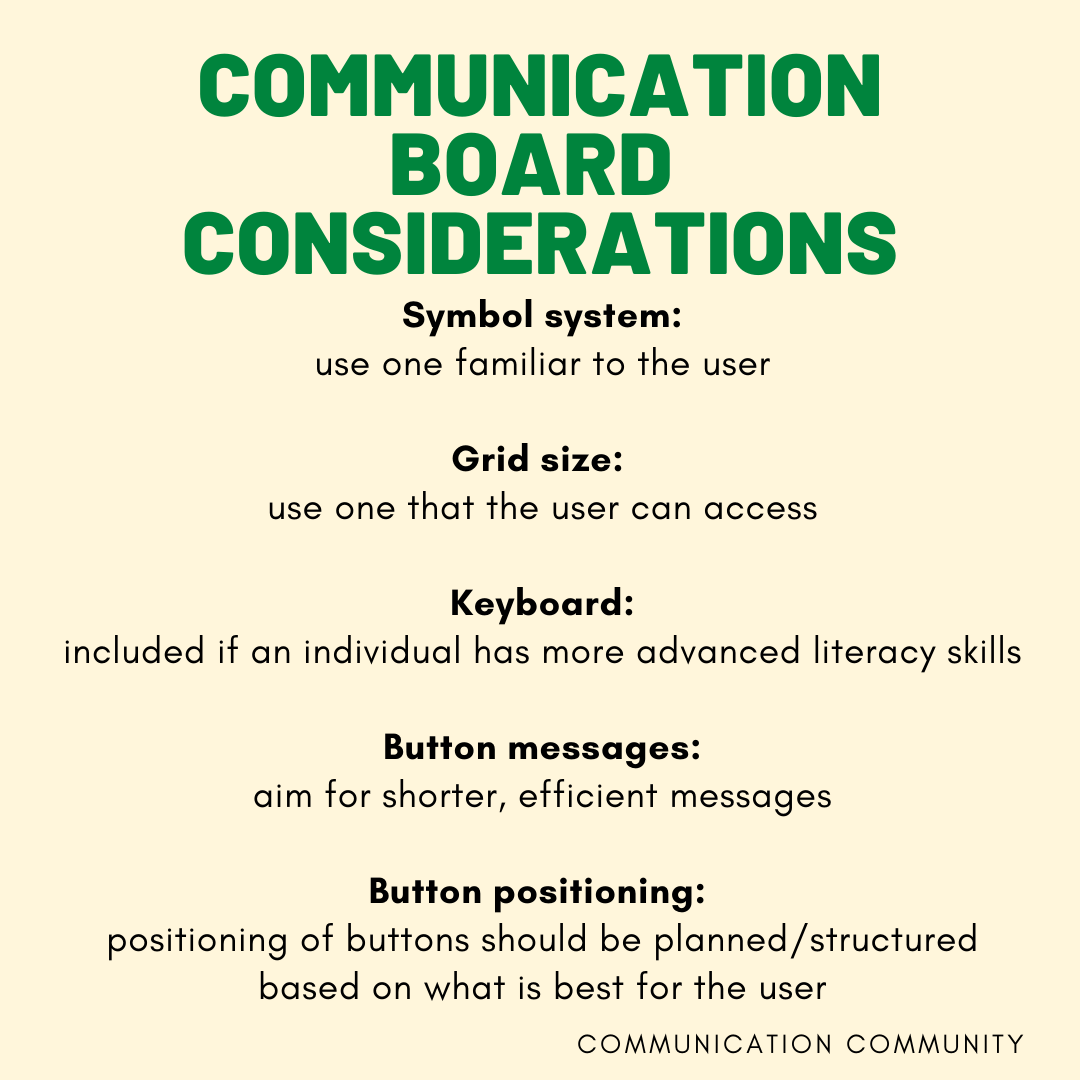 Cboard has taken all of these ideas into consideration and their app is able to be customized in multiple ways.

Information from Katrina of Cboard
Cboard is a free and open-source AAC web and Android app. Cboard can be used on smartphones, tablets and computers with access to the internet, and can be fully customized depending on the needs of each user. Figure 1 below is the Cboard home screen that all accounts have when created. This screen can be fully edited, deleting or adding any of these boards. Users can also upload their own images, and record their own voice-over for the speech output.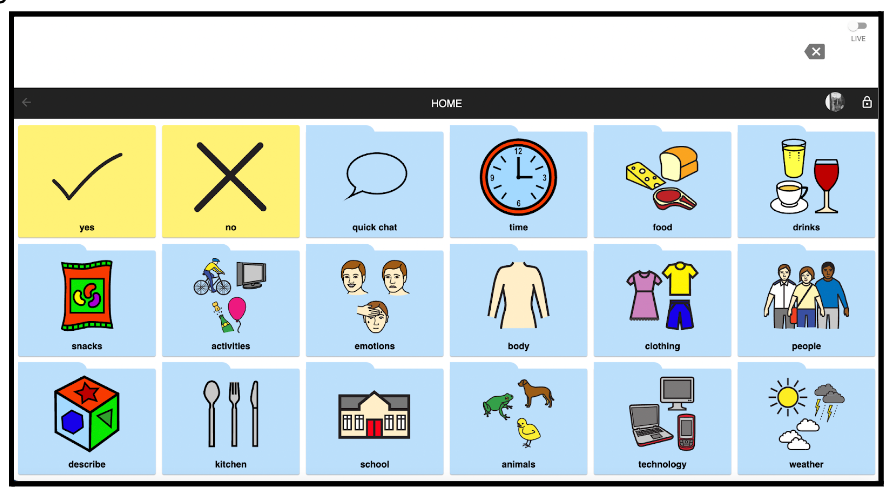 Some key features include the ability to customize your Cboard: size of boards, the voice of the speech output, language, label location on the screen (moving labels around to where they best suit you). The app has the option to download boards in order to use them offline, either on your devices or downloading as a PDF to print. The app was created to fit a wide range of needs, so everything can be edited and adapted. Furthermore, users have the choice to make their boards public, allowing other users to browse available public boards and download any they may find useful to their own Cboard account, see (accessible through the "build" section after unlocking your home screen).


Special thanks to Katrina, Head of Communication at Cboard, for contributing to this article! If you would like to reach out Cboard specifically, their information is below:
Cboard aims to provide an accessible AAC app for everyone who may need it, and always welcome suggestions for new features. Get in touch if you have any questions or comments: support@cboard.io.
---
For additional inquiries (we love to collab) or questions related to this article, feel free to contact the Communication Community team! hello@communicationcommunity.com