What are Idioms?
Idioms are phrases that state a message different from its literal meaning.
Literal language
The message is expressed exactly how it is intended
Example: "He was very nervous going into the meeting."
Nonliteral language
The message requires inferencing/interpretation or has been learned
Example: "He had butterflies in his stomach before he went into the meeting." (idiom)
Idioms are often culturally-specific and have been accepted as common use.
They fall under a larger umbrella called figurative language. For more information about figurative language, check out our post Types of Figurative Language.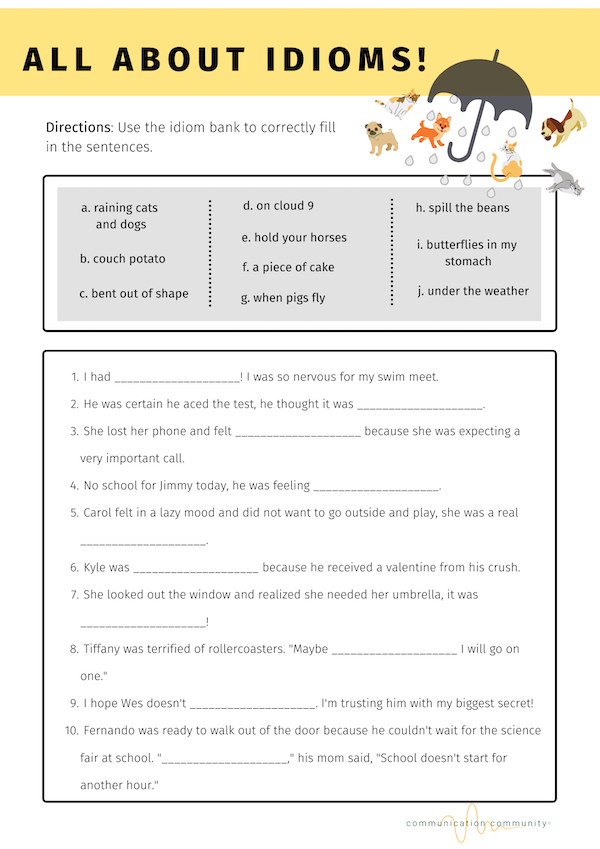 Idioms Worksheet: Ways to Use
If I am being perfectly honest, I have already used this worksheet for a variety of uses with all different clients (remember - we are SLPs, but this is a great resource for the classroom too)! I've used it both digitally for some of my telehealth clients and in-person. Tip: if printing, laminate this worksheet for multiple uses across clients/students!
This worksheet can also be used for:
-Informal assessment of figurative/pragmatic language areas
-Pre/posttest of skills
-Easy homework assignment
-Therapy material
-Teaching tool
-Group activity
& more!
---
For additional related resources, check out our posts on:
How to Write Figurative Language Goals [with goal bank]
Pragmatic Language: What it is and How to Support it