Doing articulation drills are important for children but can also be fun and exciting! We created a simple Bingo game using SymbolStix that contains many different words with /ch/ in the final position (important!) AND is fun.
This is for parents and SLPs alike. It is quick to prepare and easy to use. You can choose words randomly, follow a specific pattern, or print a few copies and cut one up to use as a master list. Use cut-up paper, beads, or coins to cover the words if you print them out.
If you are an SLP using Zoom or another online learning platform that allows for screen-sharing, you can pull it up on your screen for your client to see. Check out our post about Zoom for more tips and tricks here! You can also take a screenshot and use the markup tool to cover the appropriate words. We have a post about this as well!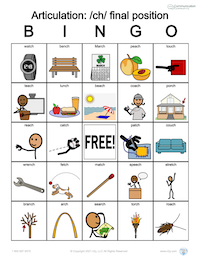 Articulation Practice Tips:
Focus on progress not perfection. Not all repetitions will sound perfect, and that is okay.
To increase complexity, say the target word in a phrase or sentence. For example: "catch ball," or "Let's play catch."
Try to get in as many trials as possible. A good target would be to say at least 10 of these words in one sitting - saying all of them a few times would be best.
This is an easy-to-use, one-stop shop packet for the treatment of speech sound disorders (articulation, phonological, & apraxia). Find a goal bank and pages of resources about treatment approaches, speech sound milestones, and more! Get it on Teachers Pay Teachers or on our site!