We are looking forward to using Smarty Symbols to create communication boards, visual schedules, games, and activities in speech therapy this year!
Communication Boards
Communication boards are great low tech AAC systems that can be used alone or in conjunction with other forms of AAC (i.e., multimodal communication). Check out some of our previous posts about all things communication boards here.

I made this core word communication board using Smarty Symbols. Depending on the client, I may customize this to make the symbols bigger/smaller. Fortunately, it's pretty easy and quick to do this on the site!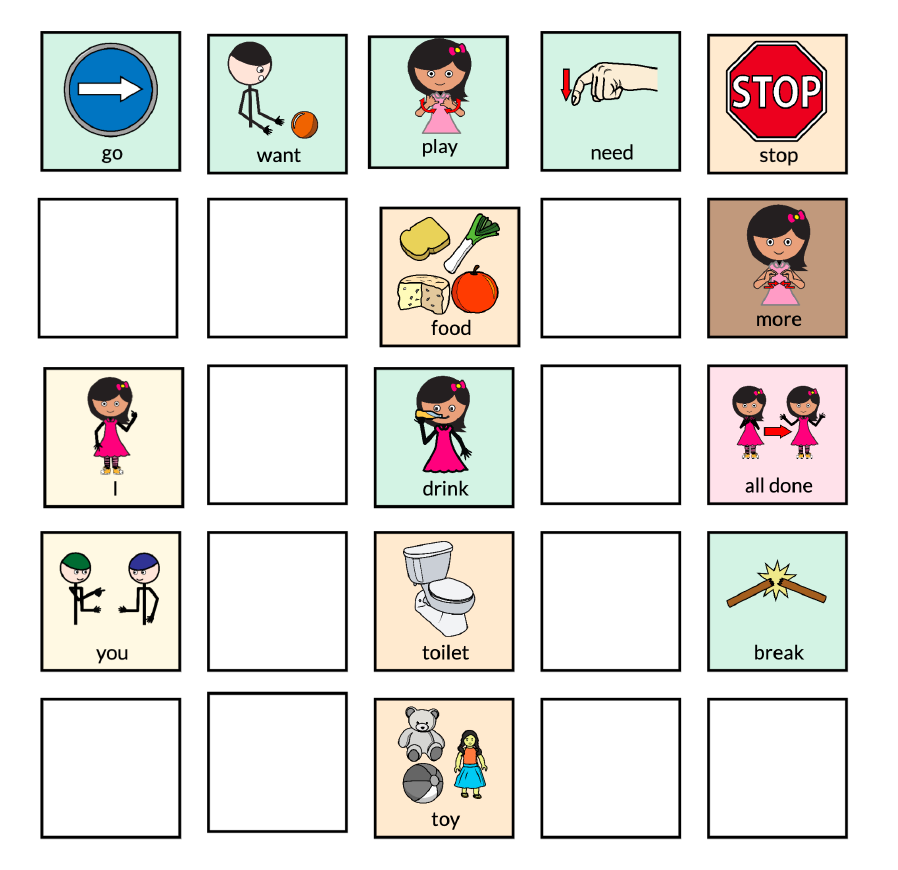 Communication boards using fringe words can be great for specific activities as well. For example, if I'm going to read a specific book with a client I may make one with vocabulary related to that. Some of my clients have specific interests in certain movies or TV shows and I can make fringe word boards about these areas as well!
Visual Schedules
Visual schedules can make or break sessions with some of my clients. I don't use them for everyone but they can definitely help some sessions run smoothly. Visual schedules are also a great way to build executive function skills; individuals can be in charge of marking off when they've completed a task and determining what activity comes next.

This is an example of a visual schedule I made for a client I have in mind. If you are working in person, consider laminating this (or putting it in a binder sleeve) so you can reuse it over and over.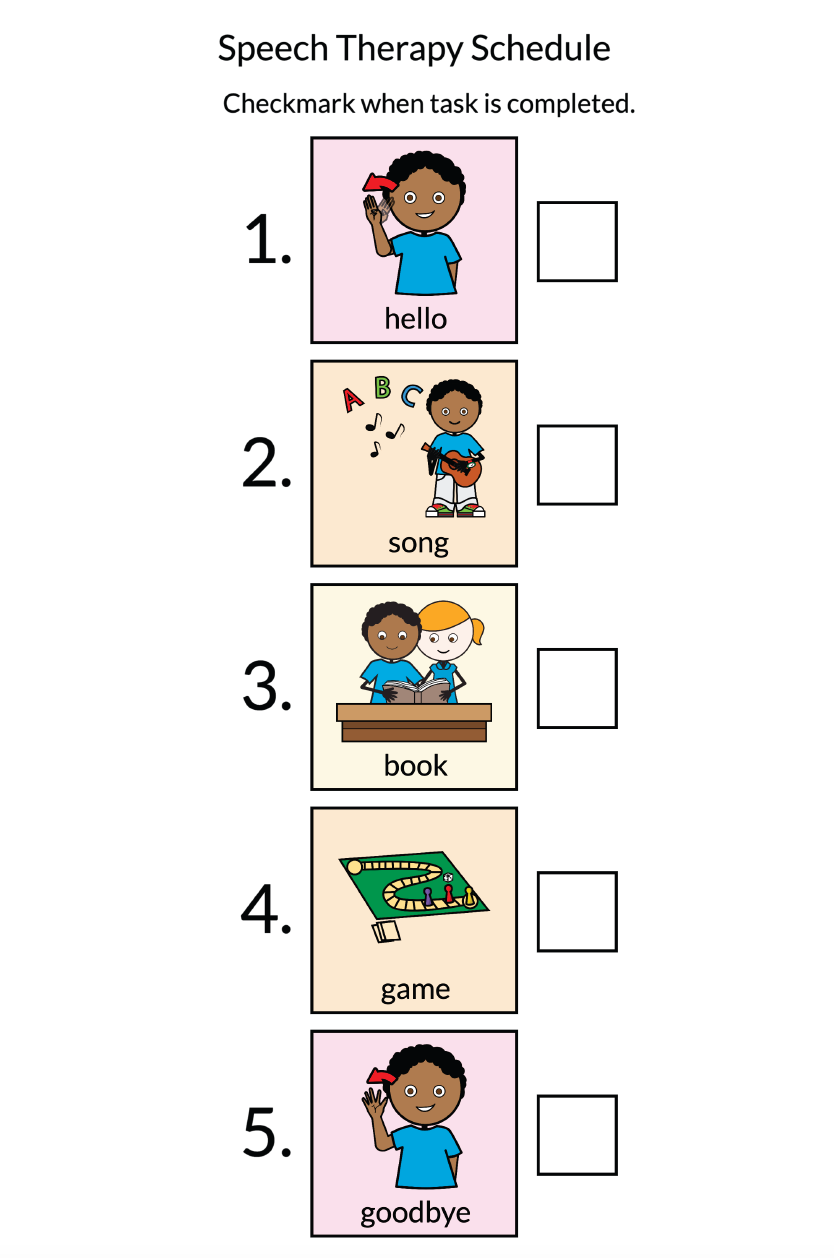 Games and Activities
We are all about games and making speech therapy sessions fun and Smarty Symbols has a number of great game templates that you can use to create personalized games. I look forward to creating some game boards that I might use with a number of different clients. For example, I may have a client find the matching symbol on their AAC system or have a different client make a sentence using the word/symbol they land on.

I also started making some "back to school" wh- questions that I plan to use with a number of clients. It's still a work in progress but I'm happy with what I have so far!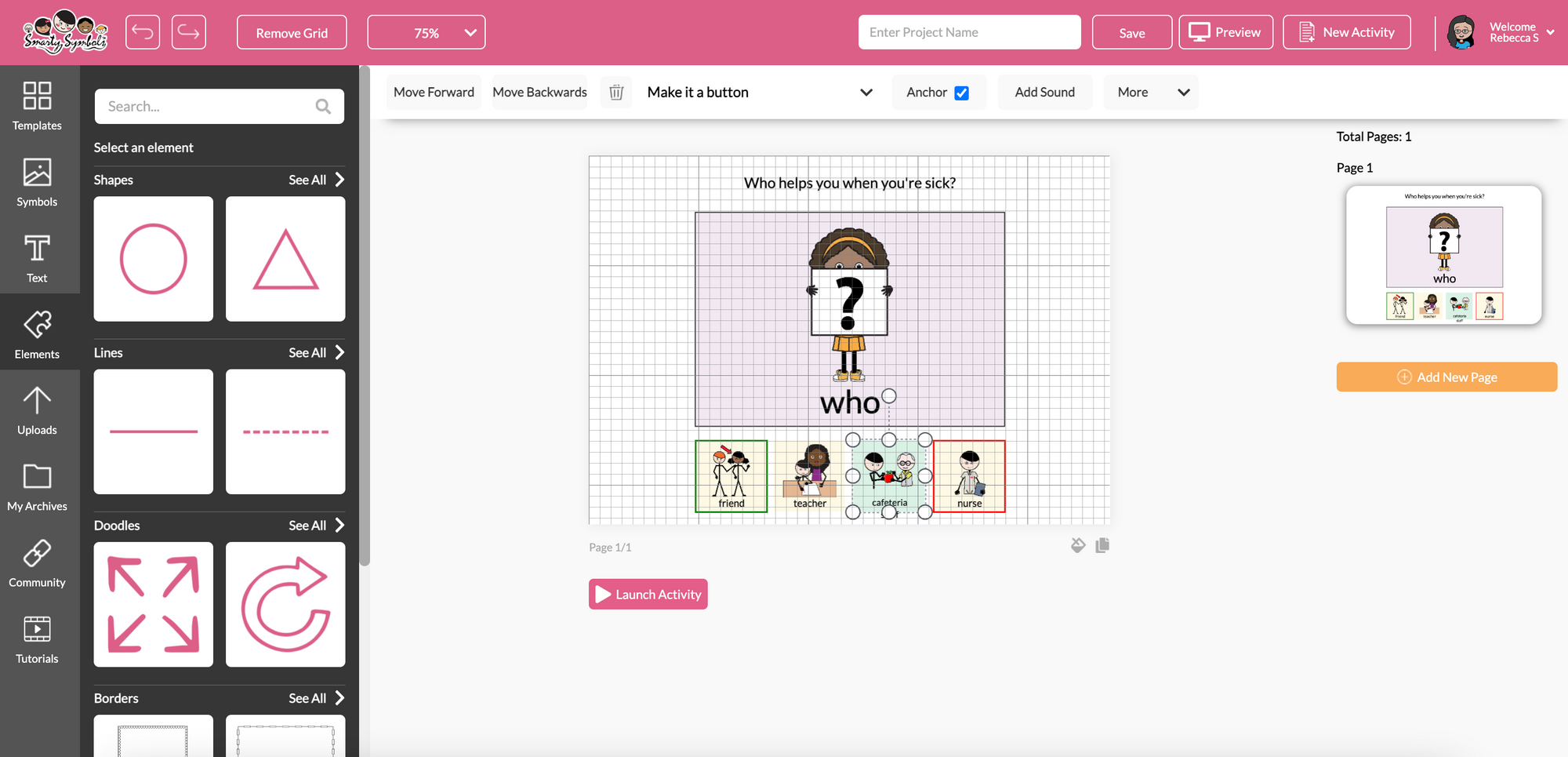 Why We Love Smarty Symbols
There are a number of reasons why we enjoy using Smarty Symbols. Their platform is user-friendly and efficient, allowing you to create resources in a timely manner. (We are always looking for ways to save precious time.)

Other great features include:

Playground Communication Boards. Order one directly from them!
Regular webinars (catch previous ones on their YouTube channel)
Diverse symbols and languages
Ability to download individual images
Ability to search images by phonetic sounds
Ability to download resources in jpg or png formats
Access to materials others have made and chosen to share
Opportunity to share your materials with others in your organization or with all Smarty Symbols members
Educationally-relevant categories
The use tags to better organize and filter resources
---
You can get 10% off Smarty Symbols subscriptions (yearly or monthly) using our promo code: SYLVIASTEARNS10.

We earn a commission if you purchase a Smarty Symbols membership on August 3rd and August 4th, though all opinions are our own.