NEW PRODUCT ALERT!
Our self-determination goal bank has arrived! Covering all 8 KEY areas: choice making, decision making, goal setting, problem solving, self-advocacy, self-awareness, self-efficacy, and self-regulation. Don't miss out!
Available via Gumroad (below) or in our Teachers Pay Teachers Store! Learn more below:
Self-Advocacy: About
To self-advocate, an individual effectively communicates their needs and desires. Essentially, this means they speak up for themselves when an outcome or situation doesn't seem quite right. It is a skill that is usually discussed on its own but also falls under the umbrella of self-determination. You can read more about self-determination skills in our recent article!
Self-advocacy skills are important because they provide tools to help keep one feeling safe and comfortable.
Self-advocacy also includes asserting oneself to convey or negotiate a message that may not have been initially understood. Speech-language pathologists (SLPs) tend to call this a communication breakdown.
Example:
Person 1 - "Oh, you said you don't want cheeseburgers? Let's get pizza instead!"
Person 2 - "But cheese makes my stomach hurt. If it's okay, I'd like to brainstorm another option together."
Person 1 - "Whoops! No problem, I forgot about that."
Similar to above, self-advocacy can seem as basic as informing the barista that a wrong coffee order was received or can be more involved - like speaking up to a medical professional about not receiving the expected quality of care. There are many different ways and contexts that lend people to self-advocate for themselves.
Self-advocating can be challenging and uncomfortable for some and quite natural for others. Each individual may have their own familiarity with self-advocacy; though, it is important to have these tools available to protect their needs and safety.
Why is Self-Advocacy Important?
As mentioned above, self-advocacy skills are important because they provide tools to help keep one feeling safe and comfortable. As clinicians, teachers, etc., this is a VERY important area to consider when delivering instruction; though, it is not an area that has been routinely incorporated into practice. For example, recent research found that there were frameworks for teaching students to participate in their own IEP meetings; however, minimal research relating to teaching students to speak up on their own behalf when faced with communication breakdowns or disruptions to their learning has been completed (Singer & Morgensen, 2021).
SLPs are trained to provide skilled intervention so that clients receiving services have the best possible access to communication. So, how does that include introducing self-advocacy skills? Self-advocacy REQUIRES effective communication! As communication specialists, SLPs are in a role to recognize communication differences and facilitate understanding between individuals with different forms or styles of communication. Furthermore, SLPs have insights into the role of the communication partner (i.e., anyone who communicates with a client) in supporting and understanding the client's communication challenges or differences (Sanatham & Bellon-Harn, 2022).
A gesture such as holding up a hand to signal "stop" to an unwanted touch is self-advocating. This just goes to show how it is a powerful skill we can teach our clients.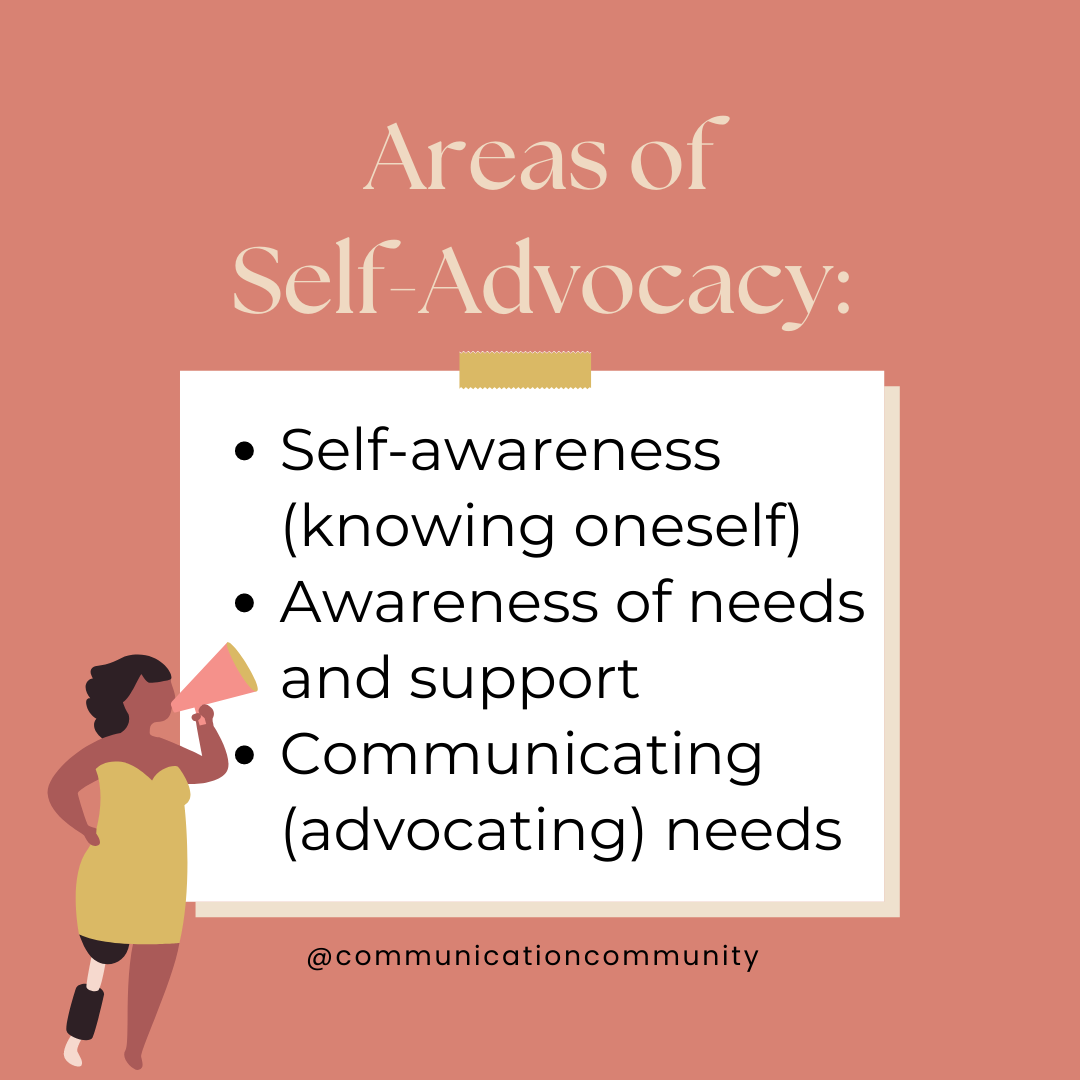 Incorporating Self-Advocacy Into Instruction/Treatment
Let's start by breaking down some of the areas above:
Self-awareness
Introducing the concept of self-awareness is foundational for the development of advocacy skills. It gives the individual understanding of self and being able to tune in to what feels natural and comfortable for them versus what makes them uncomfortable. Asking reflective questions (e.g., relating to personal strengths/weaknesses) or providing questionnaires are tools to help the individual better understand what they may need to increase their access to support. Reflecting on personal events (positive and challenging) can also help breakdown where they had successful interactions and got their needs met, or where they could have missed opportunities to self-advocate.
Examples of questions may include:
What is something you think you're really good at?
What is something you think you could get better at?
What went really well in English class?
What did not go well in Band class?
What would make you feel more comfortable in class?
Awareness of needs and support
Once the individual has developed a better understanding of self, it is important to examine where and how they can access support. This includes understanding the law and knowing what personal, academic, and health-related supports are legally available to them (e.g., seeking accommodations under the Americans with Disabilities Act). Prior to this, it is also important for the individual to have an understanding of what their difference or disability may be, as it could affect the types of supports that are available to them and focused areas of need.
Communicating (advocating) needs
If the individual receiving services has the background knowledge of self and their needs, how can they be instructed to effectively communicate those needs to others? What are their most preferred and efficient modes of communication? This may require further examination of their speech and language skills, as well as their needs across different contexts and settings. For example, if the individual is a primarily verbal communicator who feels uncomfortable when they are hugged by others, role-play scenarios can be arranged where they can practice assertively communicating their physical boundaries. They might feel best saying, "I feel uncomfortable receiving hugs. How about a high-five?!"
For a more systemic clinical approach, SLPs Singer and Mogensen (2021) coined the ASSERT model to outline step-by-step instruction when teaching self-advocacy skills. It provides six "big" steps for intervention with corresponding "baby steps" for teaching and targeting skill areas. For more information, check out their article: Getting Students to Self-Advocacy Step by Step.
---
What are some ways that you have incorporated advocacy skills into your practice? We'd love to hear from you! Email us at hello@communicationcommunity.com
Citations/further resources:
https://drc.ucsc.edu/general-resources/resources/online-resources/self-advocacy.html
https://leader.pubs.asha.org/do/10.1044/leader.FTR1.26082021.32/full/
https://doi.org/10.1044/2021_AJSLP-21-00223
https://doi.org/10.1044/2022_LSHSS-22-00031
https://www.ncbi.nlm.nih.gov/pmc/articles/PMC7894983/
https://journals.sagepub.com/doi/10.1177/07419325050260010601