There should always be a systematic level of training involved when an individual receives an augmentative and alternative communication (AAC) system (e.g., speech generating device/SGD). That includes the client, but that also includes the primary communication partners with whom the client most frequently interact.
To get an AAC system but not provide any training to the individual and their communication partners can be compared to giving someone a Spanish textbook but not providing any further instruction. Would this happen at your high school? I'm going to say, probably not. It is very likely that someone can go through that book and learn some Spanish, but unlikely that they will be proficient at using the Spanish language and provide to be an effective communicator in Spanish. There is a methodical approach for learning foreign languages, and it is not too dissimilar when learning how to use a new AAC system effectively.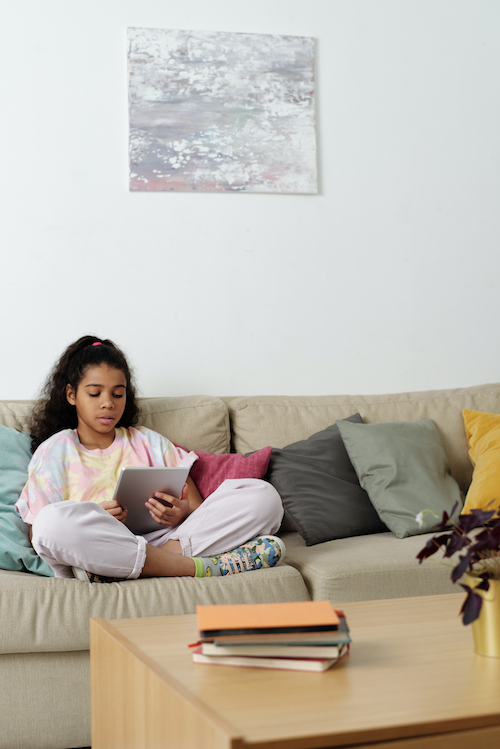 With that being said, this week, Communication Community decided to write our weekly post a little differently. We decided to highlight a podcast that we have been following recently, SLP Nerdcast! SLP Nerdcast is a podcast that discusses clinical issues related to speech-language pathology; created by two speech-language pathologists (SLPs), Amy and Kate (also a board certified behavioral analyst/BCBA). Their content includes, but is not limited to: topics related to AAC, data collection, and collaborating with other clinical professionals. Our favorite part about this podcast is that, while it is free to listen to, you can also earn continuing education units (CEUs) for a very affordable price.
At Communication Community, we LOVE collaborating with other caregivers and related service professionals, which is why we have provided a review of one of SLP Nerdcast's recent listens, Partner Training in AAC.
Partner Training: An Introduction
In the SLP Nerdcast episode, they discuss that just having a device will not guarantee one will become an effective communicator. Individuals with AAC devices have complex communication needs, and in order for them to become effective communicators, it is imperative that they are trained on how to use their devices effectively, as well as their communication partners are trained on how to help them use their devices effectively. Going back to your high school Spanish class, do you think you would be as successful if you were learning and communicating with individuals who had no familiarity with the Spanish language? Or do you think that you would strengthen your ability to learn the language if you had rehearsed and competent communication partners that could help facilitate your learning experience? I think we all know the answer to that… This concept certainly ties into communication partner instruction in AAC and the literature would agree.
SLP Nerdcast outlines how you can communicate with someone who uses AAC so that you are providing the most language growth and opportunities for that individual as their communication partner. They review two evidence-based articles about this topic. Amy and Kate broke up Partner Training in AAC into a three dimensional and easy-to-listen way. Let's dive into their episode:
What is Partner Training in AAC?
Communication partners can be defined as pretty much anyone who communicates with the individual using the AAC system. Partners are not only limited to the AAC user's parent/caregiver; it expands to any individual with whom the user has communicative interactions. Think of the cashier one would speak with at their local coffee shop, or the AAC user's teachers and classmates - ALL are considered communication patterns. They are individuals they speak with at school, at home, and in the community.

SLP Nerdcast reviewed various peer-reviewed literature (which can also be cited within the details in the podcast episode) and collectively yielded similar results: suggesting that communication partner involvement was directly related to positive results for the AAC user's communication skills. This supports the point why partner training intervention is such a key parameter in AAC training and implementation. Amy and Kate summarize it well: basically, if you are working for the client (i.e., AAC user) you want to serve the client in the best possible and evidenced-based fashion. Partner training is part of this intervention because (if done successfully) it is something that will directly affect the way that the client uses their AAC system and will ultimately reduce the likelihood of abandonment*.
*[Device] abandonment occurs when an individual with complex communication needs no longer uses their AAC system as a (primary) form of communication. Oftentimes, there is no progress using their system moving forward.
Let's look at two different approaches when working with communication partners of AAC users: no training vs. training.
No partner training

Partner training

-lower rates of communicative initiation




-fewer conversational turns between partners




-lower response rates




-fewer questions asked




-limitations in language usage




-higher likelihood of device abandonment

-higher rates of successful interactions




-increase of conversational turns




-increase in response rates




-increase in type of language used




-fewer yes/no questions




-decrease in device abandonment
What Does Partner Training Involve?
SLP Nerdcast cited several articles that supported developing a structured framework when delivering partner training instruction. And framework and structure is important! As a clinician, it is easy to focus on prioritizing the operational or technical-related skills (e.g., how to edit a device) because it has a concrete and straightforward instructional approach and application. But how are you to know what vocabulary is appropriate to add to a device if you are not proficient with the client's communication system? Or after these new buttons are added, do you know how to contrive situations that can ensure the client has consistent practice using this button across contexts? This may reshape the way you look at training.
In this podcast episode, they discussed the common problems that are often encountered when developing a training approach for AAC user's parents/caregivers. Generally stated, these problems include focusing on the "wrong" areas; such as, paying too much attention to what the partner is doing wrong and paying less attention to the client's behaviors. Or, trying to change partner and/or client's behaviors across too many settings and situations. Training should be able to link changes in partner behaviors to identifiable, measurable changes in the client (Binger, Kent-Walsh, 2012).
Amy and Kate also outlined the appropriate guidelines when selecting partner skills to work on during trainings, referencing Binger and Kent-Walsh (2012):
Identify partner behaviors that can result in desired client skills and are clearly linked to client outcomes
Basically, generate a list that focuses on the current skills you would like the client to work on. Next, determine how the client's partner is able to elicit and facilitate some of these skills and objectives. Be precise and exact!

Select well-defined client and partner skills that can change quickly, are easy to identify, and are easy to quantify
Based on the list that you have generated, which skills do you want the partner to focus on? Spoiler - you can't choose them all! Yes, your client may require a lot of intervention before they are fluent using their AAC system, but remember the problems we've highlighted above. It can be a disadvantage if there is too much critiquing and information put on the partner at once. Same can be said for the client.

Practice the selected partner techniques with the client before teaching it to the partners
As the clinician, you want to be certain that the time and instruction you are providing to the partner yields the most success working with the client. That means that rehearsing some of these skills with the client will give you a better understanding of how and what to present and train the caregiver on regarding their AAC system.

Start small and expand after achieving initial success
It is easier to start small and ensure that certain practices are understood and properly rehearsed in the training, than to throw an assortment of information at the partner and expect to receive positive results. It is suggested that no more than 2 specific contexts are worked on at once and the activity/practice last approximately 10 to 15 minutes.
Hurdles and Strategies to Consider During Partner Training
As informative as it is to have a formal structure for organizing partner training, there are specific obstacles that clinicians encounter when attempting to execute these approaches. SLP Nerdcast wrapped up their episode by discussing these potential obstacles. In summary, it comes down to time, finance, and privacy.
Time is so important because adequate partner training requires a great amount of participation across several different training sessions. Depending on the client who is using the AAC system, there may be several recommended trainings a year (think: a younger individual who is learning to use a novel AAC system and constantly learning new language and symbols). Time with the client's parent/caregiver is obviously one of the most important factors, but it is also important to consider the additional training time necessary for that individual's multidisciplinary team (e.g., occupational therapists, classroom instructors, behavioral therapists, etc.).
Finance was also presented as a consideration. Time often equates to money, and in many cases the clinician servicing the client may have limited availability for training; secondary to mandate or billing restrictions.
Lastly, privacy was a factor that Kate and Amy mentioned that we did not initially think of. What do they mean by privacy? Well, for successful training, video models of the client rehearsing their skills are positive resources for partner training intervention. It was also suggested that successful training often include videos of the client performing a specific skill with partner support versus a video of the client performing the skill without support. Obtaining these video models requires privacy releases and are additional, time consuming steps in the process.
We thoroughly enjoyed listening to this podcast and learning strategies for partner training in AAC. If you did too, we encourage you to listen to the full episode and subscribe to their podcast as well!
Citations/further resources:
https://www.researchgate.net/publication/278045316_Effects_of_Communication_Partner_Instruction_on_the_Communication_of_Individuals_using_AAC_A_Meta-Analysis
https://www.researchgate.net/publication/260124080_Selecting_Skills_To_Teach_Communication_Partners_Where_Do_I_Start