Teachers, therapists, and school personnel are faced with novel obstacles as schools open (or continue remote instruction) this year, and materials should not be one of those obstacles! To make things feel a little easier, we have included a FREE Back to School Bingo resource within this post!
Recently, we have released articles covering core and fringe vocabulary, so we thought we would include a free bingo activity to go along with them. This can be used as a classroom icebreaker, activity within a speech therapy session, and/or a way to explore contextually-relevant fringe vocabulary in one's AAC system (e.g., high tech speech generating device).
As mentioned in our previous article, fringe words, sometimes called fringe vocabulary, refer to the vocabulary that is specific to a topic, individual, or environment. Core words are the vocabulary we use most frequently in our day-to-day communication, making up about 80% of the words used every day. The approximate remaining 20% of our vocabulary are considered our fringe words, like the words on this bingo board: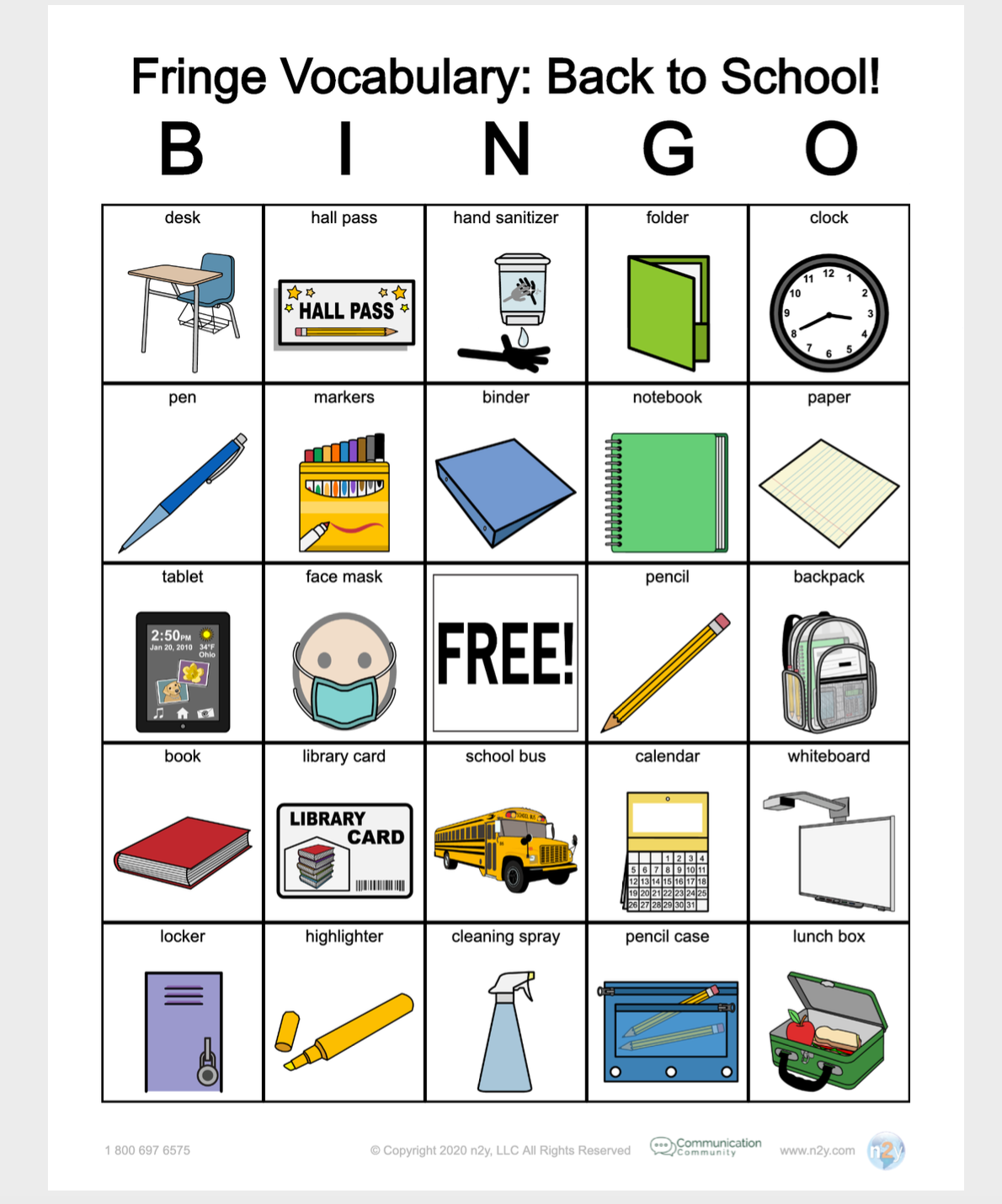 The first day of school may look a little different this year and I think that is something we are all slowly adjusting to. I mean, I certainly didn't think that a hygienic face covering would be something to include in our bingo board, but here we are! With that said, we believe it is important that students are able to identify these tangible items relevant to their school setting, whether it be in person, remote, or a mix of both. This bingo board is one way to expose and/or review these vocabulary words. Other language learning opportunities can include (but are not limited to), following directions, identifying/labeling subcategories, making requests, engaging in gametime with peers, etc.
As always, we are open to suggestions for new materials - feel free to leave them in our comments section below!
We are all in this together and we are thankful you are part of our community.
Citations/further resources:
https://www.speechpathology.com/ask-the-experts/core-vocabulary-versus-fringe-vocabulary-975#:~:text=Fringe%20vocabulary%20refers%20to%20vocabulary,including%20specific%20teams%20and%20players.)
https://pubs.asha.org/doi/10.1044/2019_ajslp-18-0041
https://aacinstitute.org/core-vocabulary-and-the-aac-performance-report/
https://praacticalaac.org/strategy/join-together-core-fringe-vocabulary/
https://www.cornwall.gov.uk/media/37627255/core-and-fringe-vocabulary.pdf