The holidays are here, whether you are ready or not! Last week, we discussed different activities that you could do at home, all which targeted speech and language skills in some way. This week, we are providing some additional coloring activities that we have created for the holiday season. We hope you enjoy!

The area of focus for these coloring activities is following directions, and can be modified to be made more simple or more complex. Following directions is a receptive language skill, which means it requires your child to understand the language that you or someone else says. Their understanding is demonstrated via drawing or coloring. These activities also promote social language and communication, especially if more than one child is participating. Encourage each child to share their crayons, markers, and/or table space.

Looking for more ways to communicate about Christmas or Hanukkah? Want to incorporate more into coloring fun? Read a holiday book, or create your own holiday scene with blocks, stuffed animals, or whatever you can find.
---
Find print outs of these activities on our Teachers Pay Teachers page!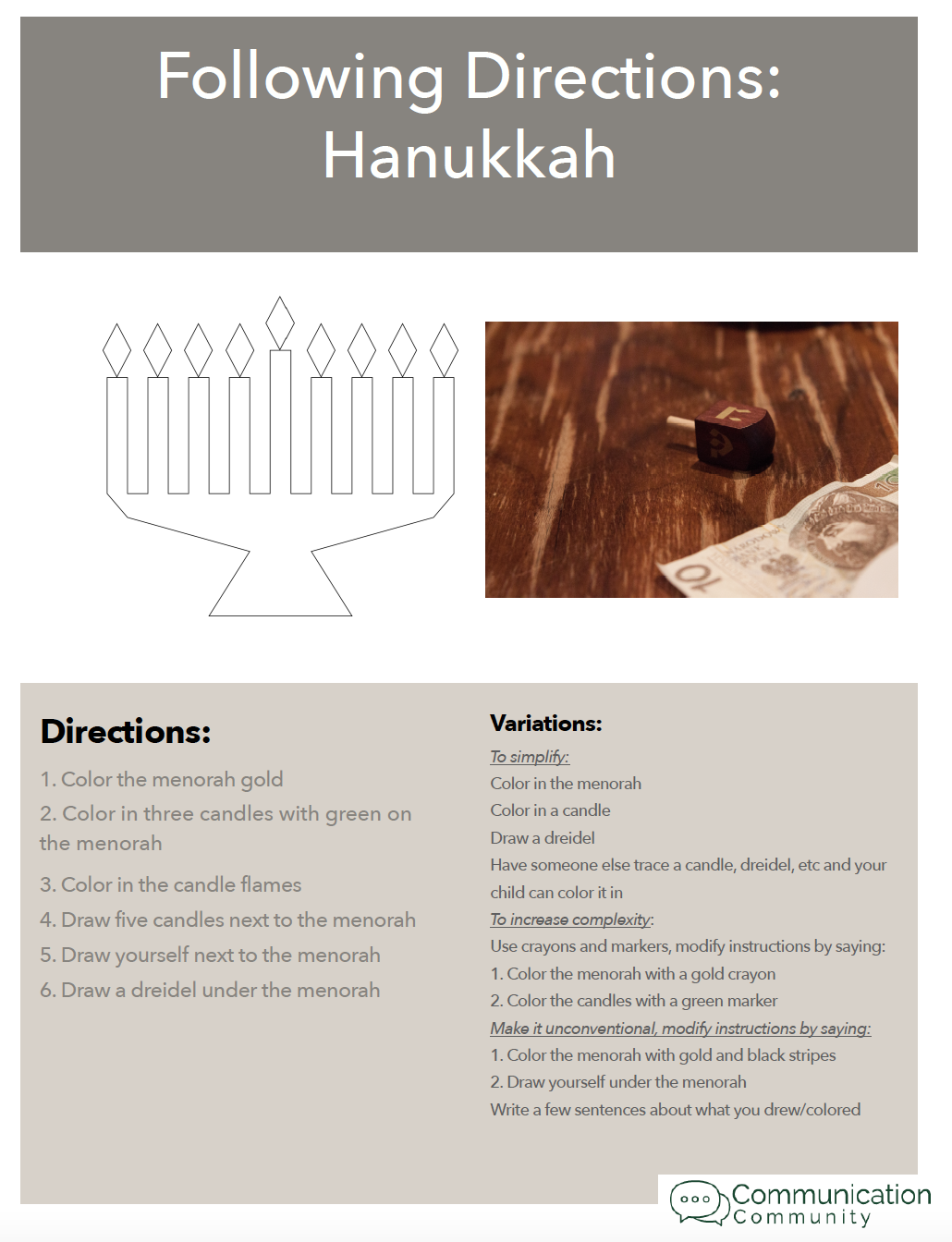 Directions:

Christmas Tree
-Color the tree green
-Draw a star at the top of the tree
-Color the star yellow
-Draw lights on the tree
-Draw two ornaments
-Draw a gift under the tree
-Draw yourself next to the tree
-Draw a snowflake above the tree

Variations
To simplify:
-Color in the tree
-Draw a gift
-Draw a shape at the top of the tree
-Have someone else trace a gift, shape, etc and your child can color it in

To increase complexity:
-Use crayons and markers, modify instructions by saying:
Color the tree with a green crayon
Color the star with a yellow marker
-Make it unconventional, modify instructions by saying:
Color the tree blue
Draw yourself at the top of the tree
-Write a few sentences about what you drew/colored

Menorah
-Color the menorah gold
-Color in three candles with green on the menorah
-Color in the candle flames
-Draw five candles next to the menorah
-Draw yourself next to the menorah
-Draw a dreidel under the menorah

Variations:
To simplify:
-Color in the menorah
-Color in a candle
-Draw a dreidel
-Have someone else trace a candle, dreidel, etc and your child can color it in

To increase complexity:
-Use crayons and markers, modify instructions by saying:
Color the menorah with a gold crayon
Color the candles with a green marker
-Make it unconventional, modify instructions by saying:
Color the menorah with gold and black stripes
Draw yourself under the menorah
-Write a few sentences about what you drew/colored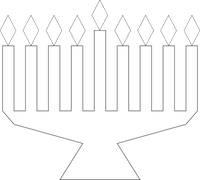 ---
Looking for more holiday activities? Check out some of our other resources: